I just caught a rough screener of the latest 2~dimensionally skewed ET flick, and I'm sad to say that Hollywood has yet again managed to portray humanity and the vastness of the eternal cosmic ocean with the narrowest of horse blinders on.
As the Christ~Reeves character himself declares: "There are only a handful of planets in the entire universe that maintain an environment suitable for complex life, and we can't allow this one to die." A handful? Are we being Sirius with ourselves here? There's more stars in the Holographic Universe than there are grains of sand on every beach on the planet.. but Exotic life? Intelligence? That's saved for .00000000000001% of the known physical plane. This philosophy just isn't reasonable anymore. Why is it that it's practically unthinkable to pass an ET script through Hollywood that isn't centered upon wiping the human parasite off the surface of the Earth? Any ET race, given the enormity of their intellect.. that wished to destroy us and take the planet by force could have done it a million times over by now, and without all the fancy CGI. The plot suggests that these particular visitors had a Nephilim~like watcher characteristic about them ~ They were waiting to see if the human species was to become salvageable ~ If we would be birthed into the Galactic Federation or be aborted because of our inbred ignorance and violent tendencies. It apparently took the Reeves alien watching the interaction between our other JC Christ resonator Jennifer Connelly and her step~son to realize we weren't so bad after all. So they were monitoring us since the beginning of time, and failed to assess that we had multidimensional personalities and were not always hellbent on creating war and destroying the environment? That doesn't sound very observant for a species that has existed for millions of years. All rants aside ~ My main point is we are ready for a much more "grown up" representation of Cosmic Consciousness, in fact we all are in desperation for it.


The film opens with J. Connelly passing in front of a Halo 3 Poster, strengthening her resonance with the Holy Trinity. This matches up with Jake's recent find in "The House of Sand and Fog," where she injures herself ~ three nails through the foot.

***Update*** Even more Jennifer Connelly Trinity Resonance found by Mr. Kotze ~ Here in Labyrinth and Blood Diamonds.


And here's Trinity from the Matrix framed by the Zodiac Cross~Hairs as she stands before the Merovingian.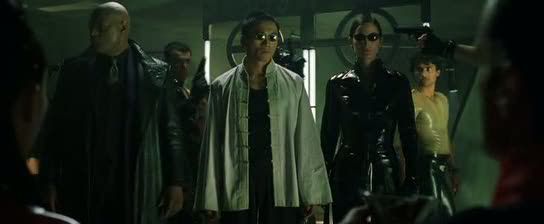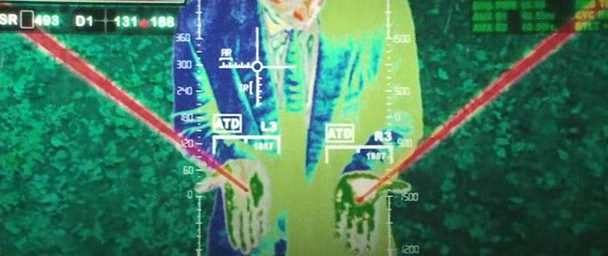 Christ-Reeves is also seen caught between the Cross Hairs in "TDTESS," and he redirects the laser sights set on him with his Messianic hands.
And a brief "Walking on Water," scenario as well ~ Or at least appeared.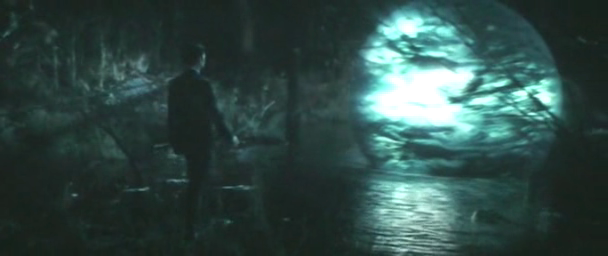 Alien "Arks" in the form of energetic sphere's appear all over the Globe ~ and of course appear over the Pyramids. Their main purpose is to collect all of the animal life they can, in order to preserve them during the rinse cycle of humanity.


Reeves learns a lot about humanity during his short trip ~ But nothing as valuable as the value MEAL he picks up. There's no reason an ET can't enjoy a McGriddle during Apocalyptic raids.


The material world infringing upon the spirit world ~ The KFC/Pizza Hut just a stone's throw from the pyramids.


The main Orb/Ark/Spaceship lands in Central Park of course ~ and the Streets are ominously cleared for Keanu again ~ Just as they were in the "Devil's Advocate," on his way to meet with Lucifer. (Al Pacino) ~ and just as they were for Tom Cruise in Vanilla Sky when he realized he was inside of the "matrix" or constructed mental hallucinated reality.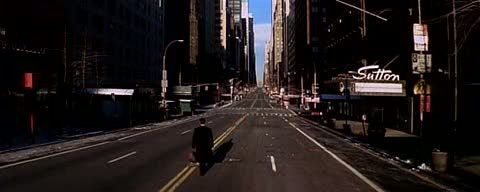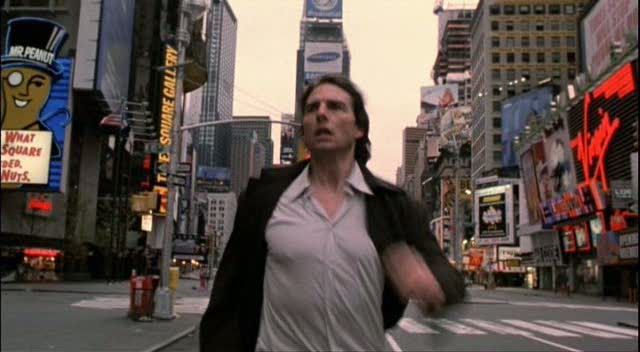 Cruise was of Course in "War of the World's,"(More Trinity Resonance as there are three alien suction cups displayed in the poster) Cruise's Scientology affiliation loosely ties him to Hubbard/Parsons/Crowley/Aiwaz/Oz/Et's, and ties this short sync together nicely ~ Also Christ Reeves follows the "Three Main Line's" to the machine city in the final Matrix chapter ~ and the God of the machines zaps him into their virtual empire with a Trilateral Cranial Jack. Peace ~ S. Willer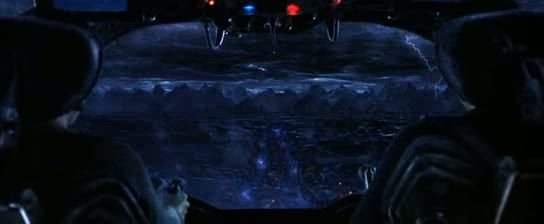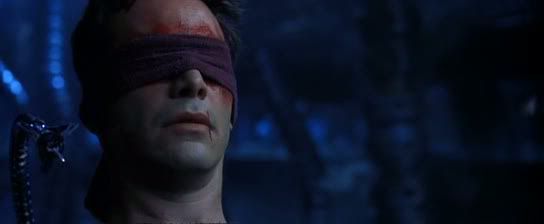 Twentieth Century Fox likes to think big(small). This time they've thought far outside the box. Keanu Reeves' new movie, The Day The Earth Stood Still will be the world's first "galactic motion picture release". The film will be beamed into space by Deep Space Communications Network located east of Orlando. "We at Fox always like to think big, and what's bigger than a 'galactic' release of a major motion picture event? We look forward to sharing The Day the Earth Stood Still with our galactic neighbours near Alpha Centauri - and look forward to their feedback...eight years from now," said Bruce Snyder, president of Twentieth Century Fox domestic distribution.

Deep Space Communications is a private organization that was formed to communicate with outer space. The staff consists of communications experts and broadcast engineers who transmit signals regularly from the space centre into deep space. For a fee, you can also hire Deep Space Communications to send your own personalized message into deep space.

The film will move through space at 186,000 miles per second. The deep space transmission begins today to coincide with the film's opening and can be intercepted and viewed at various points in our own solar system. Any civilizations orbiting Alpha Centauri will be able to receive and view the film through 2012.