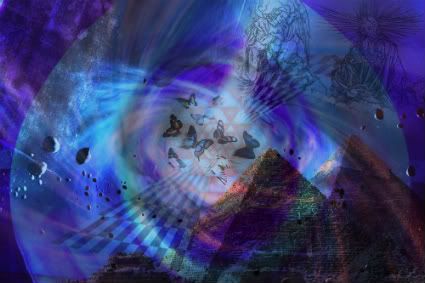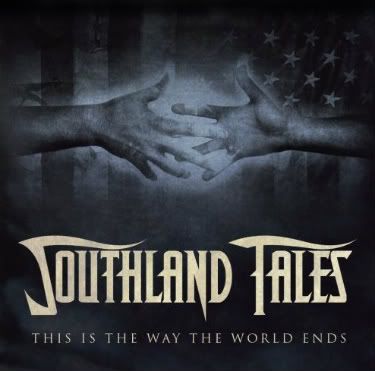 Transfiguration: The Mystic Initiation, raising the vibratory rate of balance of Substance of coarse, physical cells to the inner, radiant electronic or fire body. The Seeds of change have been planted within each one of us. We are about to undergo the first stage in human Evolution. We will learn to unlock the dormant strands in our DNA, gain healing and telepathic abilities, and finally reunite with our ancestors from the stars.

Join me on this Synchronistic Expedition, which will attempt to uncover the mysteries behind Sacred Geometry, Time Travel, Stargates, Transformation, The Pyramids, and the head scratching film Southland Tales.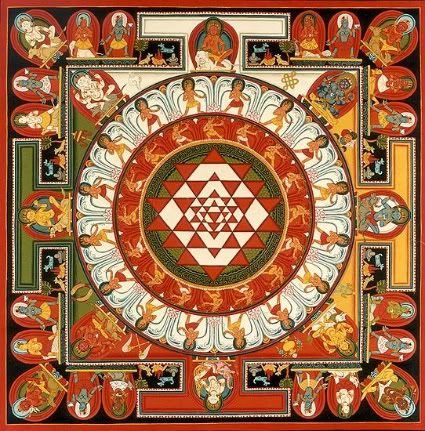 A Sri Yantra is the sound vibration of the cosmic om seen as a visual diagram. It is said that when monks have chanted aum (or om) this pattern manifests, astrally and on the physical plane. Sri Yantras are made of 9 interlacing triangles - 4 upward representing the male principle and 5 downward representing the female principle. Together, they represent the non-static, vibrating, creative force of the universe. The point in the center or Bindu, represents the point of creative manifestation - the seed core behind time and space, Shiva and Shakti ( male and female energies) united in bliss. Meditation on the bindu takes the devotee to another dimension beyond form and formlessness. It is considered the mother of all mandalas.



"This is the way the world ends, not with a whimper, but a bang."

El Paso (Where your Psychonaut was Born) and Abilene, Texas have fallen victim to twin nuclear attacks on July 4, 2005 -- a catastrophe of unimaginable proportions which has sent America into World War III. The PATRIOT Act has extended authority to a new agency known as US-IDent, which keeps constant tabs on citizens -- even to the extent of censoring the internet and using fingerprints in order to access computers and bank accounts. In order to be able to respond to a newfound fuel shortage in the wake of global warfare, the German company Treer designs a generator of inexhaustible energy which is propelled by ocean currents, called "Fluid Karma." Unbeknownst to them, the generators alter the currents and cause the Earth to slow its rotation, ripping holes in the fabric of space and time.

This is not the Future my friends - This is Present Day - 2008

High Speed Sri Yantra Art Provided by:
http://www.youtube.com/user/particleion

Inspiration By:

Henrik Palmgren
http://www.redicecreations.com

Jake Kotze
http://rundonotwalk.blogspot.com/

William Henry
http://www.williamhenry.net/

AferrisMoon
http://aferrismoon.blogspot.com/

Christopher Knoweles
http://secretsun.blogspot.com/

Michael Tsarion
http://www.michaeltsarion.com/

David Wilcock
http://www.divinecosmos.com/

and many Others...

Thanks to Everyone who has Donated towards my Jaw surgery thus far - I just want to reiterate: Anyone who donates $100 or more at my website: http://www.labyrinthofthepsychonaut.com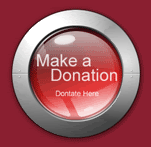 They will receive all of the High Resolution video's I have for sale at my site, as well as a LOP TShirt once they are printed later this month.

Peace,
S. Willner
Soundlessdawn Productions