The Sci-Fi channel has a new Oz series that is saturated with elements of the Time Loop - and traveling trans-dimensional gateways, like our ark seeker dwarf, John Rhys-Davies did in "Sliders."

The once-beautiful "Outer Zone" (O.Z.) has been zapped into a frigid and decaying wasteland. One of O.Z.'s inhabitants, known only as Lavender Eyes, has been imprisoned. Her stunningly evil captor in black leather is the sorceress Azkadellia. The Woman is just part of the sorceress's nefarious plot—to suck the souls out of her minions and harness the energy to jump the gap between her world and the "other side"—a place called Earth. But Azkadellia's prescient wolverine servant, Lylo, warns his mistress of a vile presence that embodies goodness, an alarming glimmer of light and hope that could be her undoing. She is DG, a rebellious young waitress from Omaha, imbued with wanderlust and visited upon in her dreams by none other than Lavender Eyes and the fellow slaves whose pleas of "save us" urge DG to follow her destiny.

DG does just that, right over a cliff into a swirling storm, face first in a debris-strewn land of double suns. She eventually encounters Cain, a former policeman from the city in the center of OZ whose past left him hardened. Enlisting the help of Glitch, a man missing half his brain, and Raw, a quiet yet powerful creature looking for courage, DG and Cain embark on a journey of deliverance along a crumbling old road. Where it leads is into the decadence of the Twister Cabaret, the flamboyant shocks of the Realm of the Unwanted, the fetid horrors of the Black Swamp, and deep into the darkening heart of O.Z. and the mind of the Mystic Man who knows all. As Cain learns to feel again, DG will discover her role in the fate of a city, her startling connection to Lavender Eyes and to Azkadellia herself.
SCI FI Channel and Fallon Worldwide have enlisted the world's leading computer-graphic artists to create Infinite OZ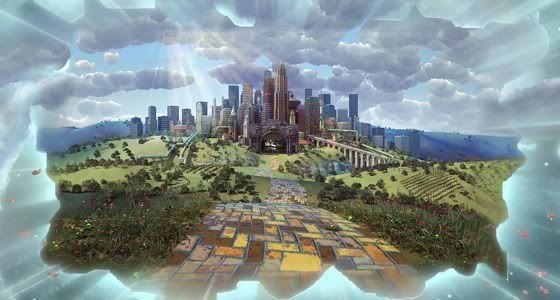 Just wanted to let everyone know, I am indeed alive - and working feverishly on a Labyrinth of the Psychonaut flash-site. I am still going to make my regular 9:59 vidz for free on youtube - but now I will be offering a second accompaniment to each one available for download at my site. I have already finished two new vidz dealing with checkerboard, bullseye, and phone booth symbolism that will launch with my website hopefully by December 15th. I hope everyone's getting fat in holiday bliss! - Pass the Egg Nog!